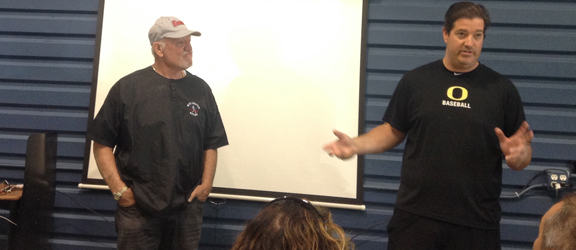 The Foundation of Epstein Hitting
The Epstein Teaching System was first created by my dad, Mike, who was a 10-year Major League player and 1972 World Series champion (led the A's that year in HRs). My dad, having played for arguably the greatest hitter of all-time, Ted Williams (1969 Washington Senators), re-kindled his relationship back in the 1980's. I remember my dad leaving for weeks at a time saying he was going to see "Ted." Of course, at the time I had no idea who this "Ted" really was.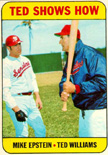 Every year for the next 10, my Dad would go to Florida and talk hitting with the best mind in the game. When my Dad finally put all those notes into a legible and learned form, Ted Williams handed him a Letter of Recommendation for hitting instruction…a great feat indeed!
"Mike Epstein played for me for three years when I managed the Washington Senators. He was always a keen student of hitting. I see Mike frequently and have parried batting technique and theory with him – both the physical and mental sides – on many of those occasions. I'm a tough guy to please and impress, but I believe Mike comprehends and teaches the science of proper hitting as skillfully as anyone I have run across in all my years in baseball." ~ Ted Williams – 1993 Letter of Certification
The Hitting Skills Taught
From Shoeless Joe Jackson to Babe Ruth to Miguel Cabrera, baseball's greatest hitters have all shared the same core mechanics. These mechanics were learned through emulation. The great Ted Williams told my dad back in 1969, "Watch the great hitters Mike. They will tell you everything you need to know." Now, with the use of slow-motion video technology (and the Epstein Teaching System) we can change the learning process from years to days!
Image from Wall Street Journal
The Teaching System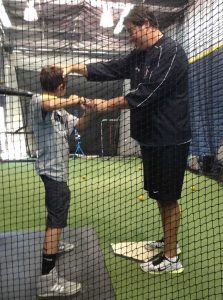 People always ask us, "What makes Epstein Hitting so successful?" The answer is simple; it is the process of identifying the swing faults and having a PROGRAM to fix those faults for good. With the readily available use of slow-motion video, anyone can compare players side-by-side to see the differences. However, a Certified Epstein Instructor has the tools, training and Jake Epstein's time tested drills to create a plan focused on the player's needs.