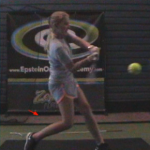 Jake,
I wanted to drop you a note to let you know that Maci is doing great. She continues to improve as she reinforces what she learned last summer with you.
Some recent highlights:  In her 14u elite team's first scrimmage, a double header, she went 7-8 with a single, two doubles and four triples!  This past weekend she was asked to pick up on the 18u Gold team. Maci went 3-6 with a double, two singles plus a walk. Remember she is still 13 for another month!
The Gold coaches were impressed and told her she has "perfect" swing mechanics!
Thank you for getting her on track. The sky is now the limit for her.