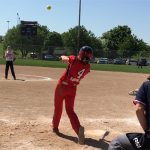 Well, it just keeps getting better. Beth went 7 for 9 in the last 3 games with 5 doubles. This one in the video hit the fence in left center. They moved her to the 4 spot in the last game and she is by no means the biggest kid on the team. And an umpire who did two of her games works for a local DIII school in the athletic dept. He came up to me after the game and said they have a spot for her four years from now if she wants it and how much money he could get her academically since they are only DIII. She is only in 8th grade. What a nice compliment to her and also to you.
It is absolutely amazing what you've done for her given the fact that you two have never even met!  
We can't thank you enough.
Thanks for everything.