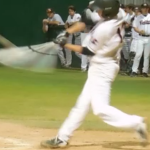 The online hitting academy is awesome!!! I wish you were doing this 4 years ago; not only is it great in the off-season it is great for in-season to make sure everything is staying where it should be. The lessons are well explained on how to perform the drills correctly. While I believe parents are very important to improving a baseball player, this program shows us how to help our kids reach their potential.
Devlin has seen Jake in Colorado the last 3 summers and the experiences have been very informative and helpful, Jake has been great with Devlin as an early teen and now a young man. He connects very well with the kids and makes great use of the time you are with him.  Oh yea… Devlin (5'6" and 150 pounds) hit his first (Varsity) home run this weekend.
I TRULY BELIEVE THAT JAKE CARES ABOUT THE DEVELOPMENT OF YOUR SON OR DAUGHTER NOT JUST THE PAYCHECK!!!
Jake, thank you for everything you have done for Devlin!